Coe College Heritage Club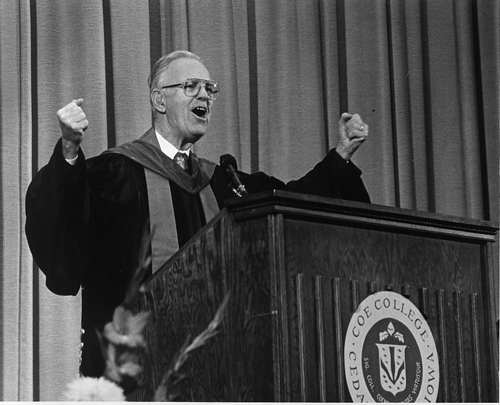 Dr. Joseph E. McCabe, 1992. Photograph by George T. Henry '49
The Coe College Heritage Club was inspired by eleventh President Joseph E. McCabe and exists to recognize and honor those who have acted to provide future support to the college, through bequests, trusts, annuities, and other deferred gifts. On June 11, 1993, President McCabe delivered his A Night to Remember address to the charter members of the Heritage Club. He exclaimed, "The future is ours if we have the vision to seize it."

Heritage Club members provide the college with financial stability, and enrich the educational opportunities for current and future students. Each year members of the Heritage Club gather together with President Phifer for an elegant appreciation dinner. Coe College Heritage Club membership is permanently recorded on the plaques located in Clark Alumni House.
Heritage Club Steering Committee
David H. Crew
Olive Carano Crew '49
Elizabeth Kucera '81
Michele Dellevar Scott '76
Libby Gotschall Slappey '74
DJ Smith '74
Abbie Peterson Smith '75
Donna Spellman
Click here to view our list of Heritage Club members.