Dr. Margaret Haupt - Joan and Abbott Lipsky Professor of Political Science, Emerita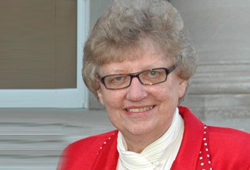 Many Coe students, both past and present, laud the faculty as a jewel in the crown of the institution. During her forty-year tenure as a professor of political science, Dr. Margaret Haupt was impressed by the continual changes made by faculty and staff to adapt to a changing student body. She said, "What I appreciated most about being at Coe was realizing that it was a project dedicated to enriching the lives of young people in different ways." This appreciation was improved by working with and alongside several departments for which she had a strong appreciation, especially the hard sciences and economics.

It was from her time as a faculty member at Coe that Dr. Haupt gained what she called, "a real appreciation of scientific reasoning." Dr. Haupt also benefited, as a scholar, from the proximity to the library and the departments of fine arts. She has, as a result of her experiences, "a unique view of the college experience." Dr. Haupt also served the Coe community as director of the Thursday Forum program, starting in the mid 1990s. Speaking broadly, Dr. Haupt said, "The village life of Coe enriched everything that we did."

After benefiting across her lifetime, Dr. Haupt has made the decision to give back to Coe. "I can speak to the value of the institution. Education has a particular value. An institution like Coe requires something special for continuity. The survival, in broad terms, of the institution and what is instilled in you, it requires some special funding."