How the Ebingers Helped Nicole Find Her Niche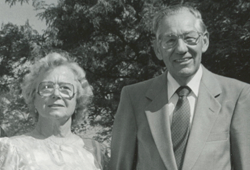 Nicole Peterson '15 visited Coe last year, and like many first-year students, she was unsure of exactly what she sought in a school. Coe was one of 13 schools to which she applied and she was searching for the institution that stood out from the others. For several reasons, Coe quickly became that place for Nicole.

Coe offered her the best financial package, and this played a major role in her choice to enroll. The other opportunities that Coe presented were also significant. "This scholarship is so much more than just the money; in a very real way, this scholarship represents opportunity, a sort of avenue to my dreams," Nicole described. She is now a Creative Writing major with a Gender Studies minor. She dreams, one day, of being an author and fulfilling her insatiable love for other cultures by traveling around the world. "I am here, thanks in part to generous donors who may never know how much their gift really means." Fortuitously, one of the donors responsible for providing Nicole's financial aid grasps that meaning quite well.

For Don Ebinger '47, Coe has both fundamentally shaped him and been profoundly shaped by him. Coe's impact on Don was overpowering, and when the chance presented itself, he and his late wife, Ruth '64, graciously decided to give back. "I doubt if anyone benefitted more from Coe than I did. It's not just the academics. It's also because of Cedar Rapids, and Cedar Rapids is saturated with Coe alumni," Don pointed out. He served on the Coe Board of Trustees from 1980-99, and in 2001 was honored with the Founders' Day Award, a distinction reserved for only a handful of Coe alumni "distinguished nationally or internationally in their fields of accomplishment or in service to Coe College, exemplifying the extraordinary qualities of a liberally educated person." Don has unequivocally matched that definition since his time as a Coe student.

In 1991, he and Ruth established the Ebinger Family Scholarship Endowment to be used toward general scholarships for qualified students. More than two decades later, Nicole is one of the latest Coe students to feel the ripples of the Ebingers' generosity. "They didn't just give me a scholarship, they gave me an opportunity-to attend school and become part of something bigger than myself, to experience Coe without living in constant financial fear," Nicole explained. And just as Nicole eagerly sought opportunity, Don sought to readily provide it. "[My wife Ruth and I] wanted to make opportunities for students," Don said. Right now one of those students is Nicole, whose passion for exploration and intellectual curiosity will yield benefits elsewhere unattainable. Whichever avenue Nicole decides to embark, she plans to continue pursuing her ambitious, socially aware goals. She has found a niche at Coe that will support and push her along her path.

Don continues to find fulfillment in students like Nicole, whose zeal for education is perhaps only matched by his humble passion for sustaining it. As he simply stated, "My life is a life because of what Ruth and I have shared. It's that simple and that significant. I am not proud. I am thankful." Right now, so too, is Nicole. She is grateful for the financial security, the chance to follow her dreams and a place in which to flourish. "Coe is a network of help from friends, students and teachers. Everyone is working to help you, whether to achieve your dreams or make them," Nicole explained. Her enthusiasm was already burning strongly within her. Coe, strengthened by gifts from donors like Don and Ruth Ebinger, will continue to stoke that fire, keeping it hot, bright and ever growing.

In addition to their scholarship commitment, the Ebingers placed a provision for Coe in their estate, ensuring support for decades of students yet to come.

To learn more about how you can support the mission of Coe College, click here.