Spurriers' Generosity Directly Helps Coe Music Students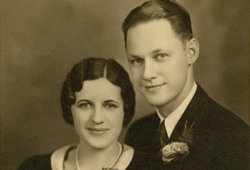 The loyalty of Coe's thousands of alumni is embodied by their generous support of the college, a vital cornerstone to the ongoing success of this institution. But Coe's impact reaches far beyond those who received their degrees from the school. There is no better example of this influence than Harold and Mary Aebi Spurrier. The couple, who never attended Coe themselves, established a scholarship through their bequest. Their motivations for giving to Coe are perhaps not as evident as those of alumni, but are certainly no less significant.

Music was an incredibly important part of their lives. The Spurriers sang in the choir at First Christian Church in Cedar Rapids for more than 40 years, attended many concerts in the area, and had a piano and organ in their home, which family and friends often gathered around to sing at their frequent gatherings. So it seems only fitting their scholarship will support students studying music.

Though the couple never had a direct connection with the college, it still very much impacted their lives. They passed Coe on First Avenue on their way to work every day, and also developed many close friendships with Coe people in the Cedar Rapids' business, music and church communities. A few notable names included: music professor Max Daehler and his wife, Mary Bingham Daehler '25; Cedar Rapids businessman Russell Knapp '30 and his wife, Louise Northcott Knapp '32; music professor Eleanor Taylor; and longtime Coe friend, Rev. Ted Lilley, among many others. Never experiencing Coe as students, Mary and Harold felt Coe's influence shine through these individuals.

Making a Difference
This year, two students directly felt the impact of the Spurriers' generosity. Both sophomores with a vibrant passion for music themselves, Emily Roth and David Rosales received the Harold and Mary Aebi Spurrier Scholarship for the 2011-2012 academic year. Emily, hailing from Boulder, Colorado, is a theater and vocal music double major. "It's amazing because it means I can actually pursue studying music. I want to as long as I can. It is incredible people not even directly connected to Coe are willing to help students follow their dreams," she says.

David, a Cedar Rapidian all of his life, decided to visit Coe and stayed overnight. Meeting many students solidified his decision to attend Coe. He has been able to flourish as a student and musician under the close direction and constant support of Coe's music faculty.

"If I could talk to the Spurriers, I would thank them until I was blue in the face. Without them, I would probably not be able to go here," he says. Their contribution will enable a generation of Coe students to obtain these same types of experiences.

The gift Mary and Harold bestowed upon Coe College is truly remarkable. It attests to the generosity of the Cedar Rapids community but also to Coe's far-reaching impact that stretches well beyond the lives of alumni. Gifts like this provide enriched student opportunities, ensure a dynamic academic future and remind each of us of the importance of institutions like Coe.

Learn How You Can Help
To learn how you can make a bequest to Coe College or for information on other planned giving options, contact, Kelly Allen, CFRE at 1-800-332-8404, Ext. 8592, or 319-329-8943 or kallen@coe.edu today, at no obligation.

Click Here to review sample bequest language.