The Legacy of Roby Kesler Lives On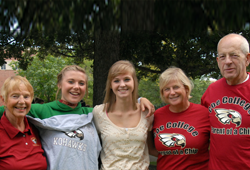 Mary Ann Turnbull Kucera '58, Alex Fangman '14, Maddy Fangman, Beth Kucera '81 and Howard Turnbull '58
Few people have been impacted by Coe College as completely as Eliza "Roby" Hickok Kesler '31, but perhaps even fewer have shaped Coe as profoundly as she has. Throughout her life, Roby worked tirelessly to promote, develop and enrich the Coe community through her work on the board of trustees, fundraising, and substantial giving to the college. Though she passed away nearly six years ago, her legacy lingers in very real and ever-changing ways.

Recently, two of Roby's relatives continued their long-standing family involvement and support of Coe College. Beth Kucera '81 recently became a Heritage Club member, establishing the college as one of the beneficiaries in her will. Beth, daughter of Howard Kucera '58 and Mary Ann Turnbull Kucera '58 (Roby's niece), enrolled at Coe in the fall of 1976 and majored in fine arts. Today she works as a studio artist and graphic designer, and remains deeply involved in homecoming, alumni and various other events at the college.

Just like her parents, grandparents and great-grandparents before her, Beth has made it a point to engage her children in experiences and events at Coe College. Having grown up with the crimson and gold all around her, the decision for Beth's older daughter, Alex Fangman '14, to attend Coe was almost instinctive. Last fall she became the fourth-generation student and fifth-generation member of her family to be involved with the college.

Learn more about Beth's incredible family legacy and contact Kelly Allen, director of the Heritage Club, to see how you can establish a lasting legacy of your own, personalized to fit your individual goals.